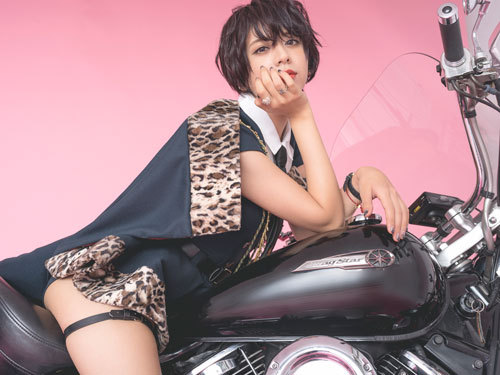 分島花音

シンガーソングライター、チェリスト、イラストレーター、衣装デザイナー。

3歳からチェロを始め、クラシック音楽とともに育つ。表現する、伝えるということに強い想いがあり、作詞作曲も行う。イラスト創作活動も積極的に行い、ファッション画、イラストジャケットなど自ら描き下ろす。衣装デザイン、イラスト創作、作詞、作曲と多彩な才能を発揮するアーティストとして、その才能に女性をはじめ、広範な層に支持されている。またライブではチェロを弾き、歌唱するというスタイルで独自のライブパフォーマンスで話題性を獲得している。

2008年にデビューすると、その世界観から海外で注目を浴びる。アメリカ、ヨーロッパ、アジアなどの海外JAPANカルチャーコンベンションに多数参加する。さらには、2011年にヨーロッパ10都市でのツアーを果たす。
2011年TVアニメ『To LOVEる-とらぶる-ダークネス』EDテーマ、PSPゲーム『Fate/EXTRA CCC』主題歌「ファールプレーにくらり/サクラメイキュウ」Wタイアップシングルをリリース。2014年2月には、TVアニメ『ストライク・ザ・ブラッド』新EDテーマ「signal」、4月「killy killy JOKER」(TVアニメ『selector infected WIXOSS』OP)、続く10月には「world's end, girl's rondo」(TVアニメ『selector spread WIXOSS』OP)をリリースし、精力的な活動を展開するとこれまで分島花音の世界に触れたことがない多くのリスナーにも届き、高い評価を得た。
2015年2月には自身の才能を余すところなく詰め込んだアルバム「ツキナミ」をリリース。同年4月にリリースしたTVアニメ『ダンジョンに出会いを求めるのは間違っているだろうか』EDテーマである「RIGHT LIGHT RISE」リリース。「RIGHT LIGHT RISE」では大型フェスでも盛り上がる一曲となっている。

2015年11月25日には『ストライク・ザ・ブラッド OVA』EDテーマ「君はソレイユ」、翌年には「劇場版 selector destructed WIXOSS」メインテーマ曲『Love your enemies』をリリース。また日本全国を廻るLIVE TOUR「Unbalance by Me 」を敢行し、大成功を収めた。
2016年11月30日にはオリジナル・アルバム「luminescence Q.E.D.」をリリースする。
今後の活躍からも目が離せない!

[Kanon Wakeshima bio]

Kanon Wakeshima has a myriad of titles to her name: Singer and songwriter, cellist, illustration artist, costume designer. She grew up immersed in classical music, first learning to play the cello when she was only three years old. She started writing lyrics and music soon after recognizing her inner passion for the expression of ideas and the power of music to speak out. She has also enthusiastically pursued her talents as an illustration artist, creating her own album artwork and contributing art for trading card games. Her multiple and varied talents have won over the hearts of admirers, male and female and from around the globe.

She made her major label debut in 2008, and immediately her uniquely themed appearance gathered worldwide interest, resulting in invitations to perform at multiple global conventions in the US, Europe, and Asia. A tour of 10 cities in 7 European countries for the year 2011 was a huge success, and 2012 saw focus on her gigs within Japan and creating theme songs for TV animes and video games, putting her classical music training to good use. Her singles, "killy killy JOKER" in April and "world's end, girl's rondo," the opening theme for TV anime "selector" series in October 2014 served as a breakthrough to new and wider audiences and has enjoyed good record sales.

2015 marked the release of Kanon's long-awaited third album, "Tsukinami," a bold declaration of Kanon Wakeshima, the artist, in expression of her original music, lyrics, and visual image. She continues to grow and produce creatively through writing theme songs for anime series as well as long film versions of anime, and providing lyrics and music for other artists. Her largest nationwide tour "Unbalance By Me" had a great success and she is holding her next tour "The strange treat ! holy night aquarium" in the end of 2016. New album " luminescence Q.E.D. " is set to drop on 30th November 2016.